DAMAVO ®
is a professional manufacturer of 12V Plug Socket, LED Voltmeter Car USB Charger best quality. Make your journey uninterrupted and make you feel more secure outdoors!
With the increase of electronic products and vehicles, power usage is also constantly increasing. To improve profitability during demand fluctuations and break the traditional USB car charger, our team has been working on using innovative designs and quality products to meet market demands.
What are you waiting for? Become your power supplier today.
DAMAVO ®
power supply products must have high efficiency and reliability to ensure fast charging and meet limited space and weight requirements.
DAMAVO ®
's TYPE-C car charger, 9-36V input, single port output 5V 3A USB-A single port output 5V 2.1A dual port simultaneous charging total output 4.2A with blue indicator.
The product adopts durable PC material, and the internal circuit design adds you short-circuit protection, overload protection, over-current protection, over-temperature protection, etc., to ensure the product's safety.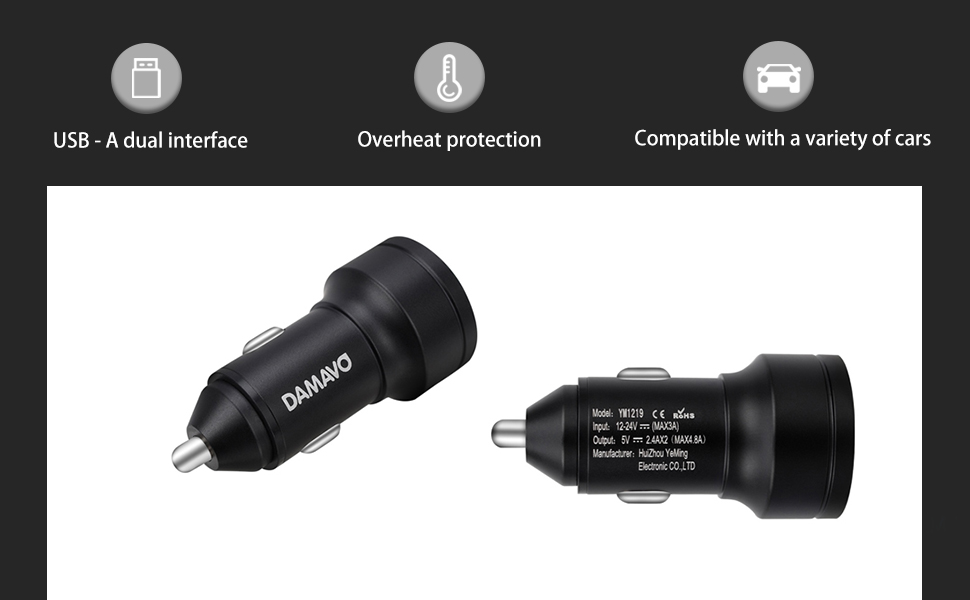 DAMAVO ®
's onboard chargers are widely used for charging needs of various cars, buses, RVs, motorcycles, excavators, cranes, tractors, agricultural vehicles, gardening equipment, camps, ships, airplanes, subway stations, airports, and public places.
Break the traditional USB car charger, make your journey uninterrupted and make you feel more secure outdoors.
DAMAVO ®
always adheres to the customer-centric approach. It has 5 standardized production lines. Each production line is equipped with anti-static devices, independent laboratories, and perfect production service management systems, providing strong cooperation for customer brand promotion and product planning. The customer network extends to the world, exported to Europe, North America, South America, Japan and South Korea, Southeast Asian countries, to provide solutions and products for brand customers. Is a well-known customer supply chain manufacturer at home and abroad.