Ceiling  lights|Awning lights|Aluminum LED lights|LED light bar|USB charger|Power socket|Cables|Voltmeter Ammeter|Panel Mount|Others
Charging and lighting products on forklifts

All responsible companies incorporate safety into their work culture to ensure the safety of their employees, equipment, and the public during the work process. Forklifts are handling heavy loads, and pedestrians can be fatally injured. Forklift LED warning lights are recommended to avoid accidents in the workplace. What is the feature of Forklift waterproof dual 12v USB charger, USB car adapter, 12 volt car adapter?
Features of DAMAVO ® forklift lights
Simple installation;

Solid state LED lights are very robust and can withstand shock and vibration

Protection class: IP67, can work on rainy days and under harsh operating conditions

LED high-power light source; the light efficiency can be as high as 90LM/W

It adopts an all-aluminum casing and specially designed heat dissipation structure to ensure rapid heat dissipation when the lamp is working and improve the life and reliability of the lamp;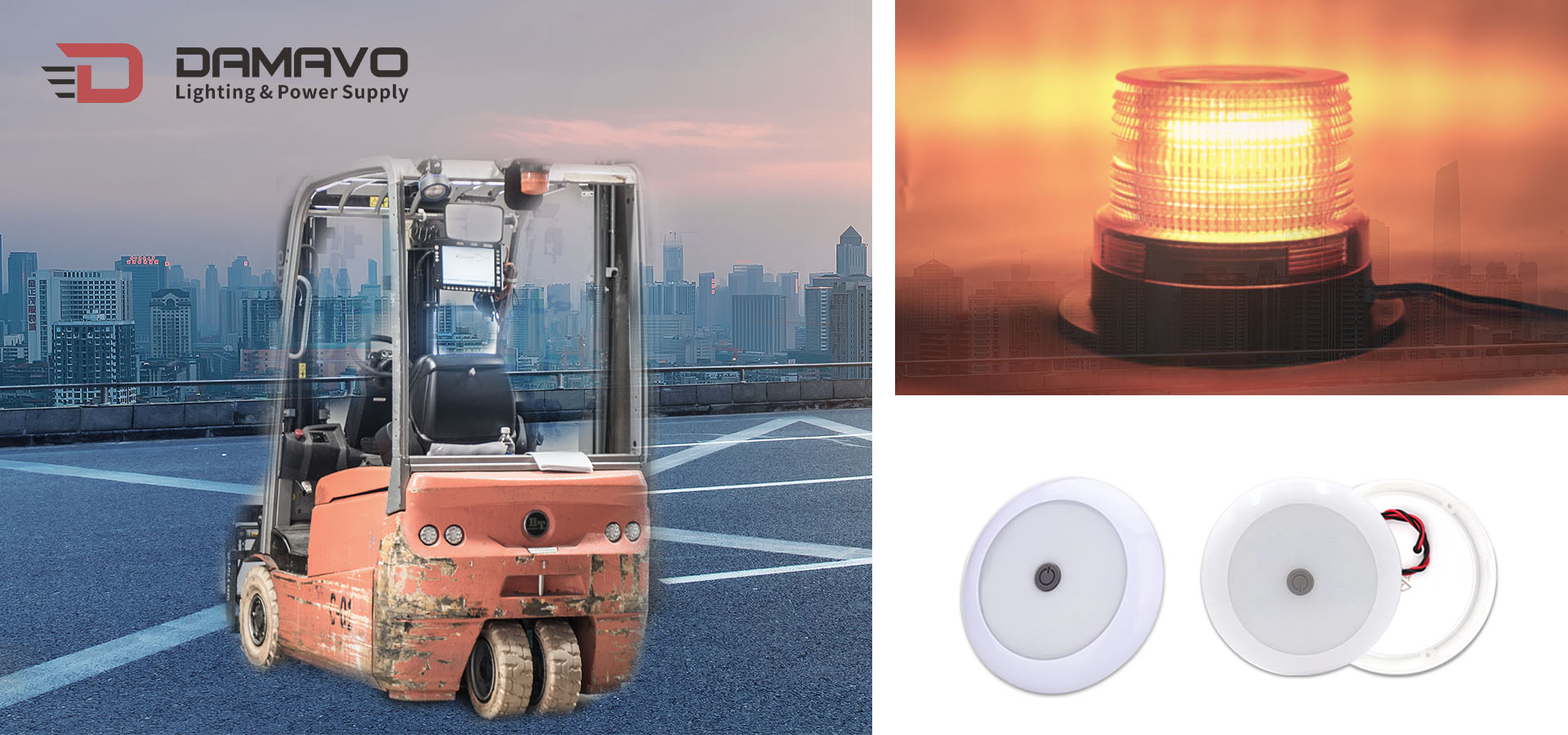 DAMAVO ® USB chargers need to withstand high vibration when used on forklifts. DAMAVO car chargers that have passed the railway EN50155 certification have been tested for vibration and can be purchased confidently.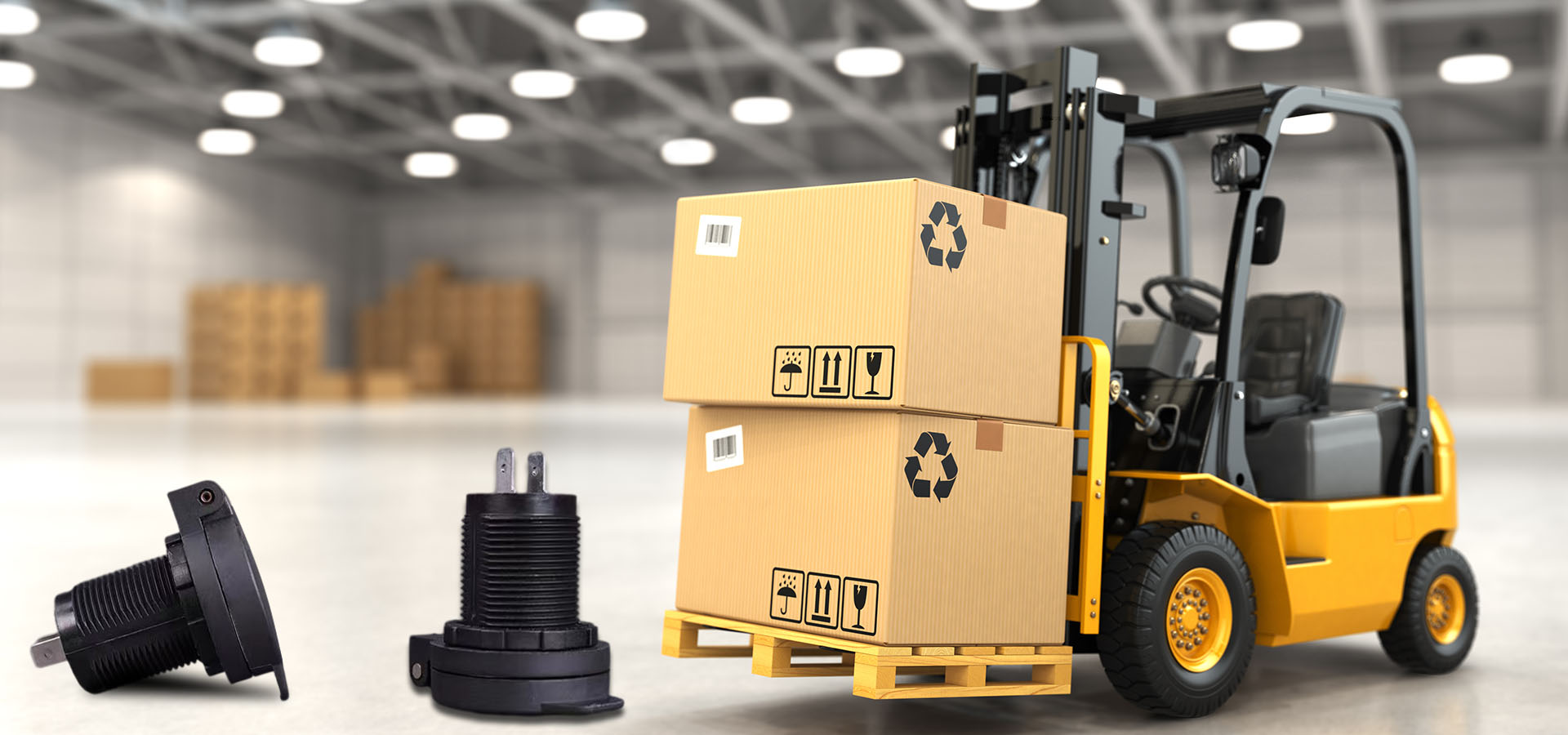 Why choose DAMAVO ® USB charger:
Stable quality: DAMAVO uses imported electronic raw materials to improve the stability of material quality.

Fast delivery: Thanks to our robust and efficient production capacity, we can deliver to customers quickly and accurately. We can ship it in 1-3 days if it is a standardized product. If it is mass customization, it generally takes 4-6 weeks to produce.

Complete certification: DAMAVO factory has ISO9001 and IATF16949 certification, and the products are used for E-MARK, CE, ROHS, and railway fire protection CE-45545-2 standard certification.

High security: Unlike other manufacturers, all DAMAVO USB chargers have short circuit protection, reverse polarity protection, overvoltage overload protection, and temperature protection, providing the highest performance guarantee for your equipment and products.
Looking forward to cooperating with you! To see FAQ know more. or  Contact sales to start your inquiry! (0086) 752-5779666  or send E-mail to us!
Click the pictures below for more information about our products, start now!
 

DAMAVO ® was established in 2002. Our entrepreneurial mission: "Full of power, always light!".
We are specialized in manufacturing LED lights and power supply parts, such as ceiling lights, awning lights, strip lights, car power outlet, 18w charger, 12v plug adapter, power cables etc., which are widely used for RV, Trailer, Camper, Vans, Truck, Excavator, Heavy Vehicles, Train, High-speed train, Tractor, Agricultural Vehicles, Forklift, Golf Cart, Motorbike, Electro mobile, Marine, Hotel, Home furnishing material, Railway station, Airport, Aviation, Defense, Communal facilities, etc.
 


After years of development, it has built a safe, efficient, and stable production and sales system. It has gathered a group of elites with many years of industry experience. It is an IATF16949, ISO9001 certified, and a high-tech enterprise. We have obtained E-mark, RCM, R10, CE, ROHS, REACH, and other certifications.
 


DAMAVO ® has always adhered to customer-centricity. It has 5 standardized production lines. Each line is equipped with anti-static devices, an independent laboratory, and a complete production service management system to provide strong cooperation for customer brand promotion and product planning. The customer network extends to the whole world and is sold in Europe, North America, South America, Japan, South Korea, and Southeast Asian countries, Provide solutions and products for brand customers. It is a supply chain manufacturer of well-known domestic and foreign customers.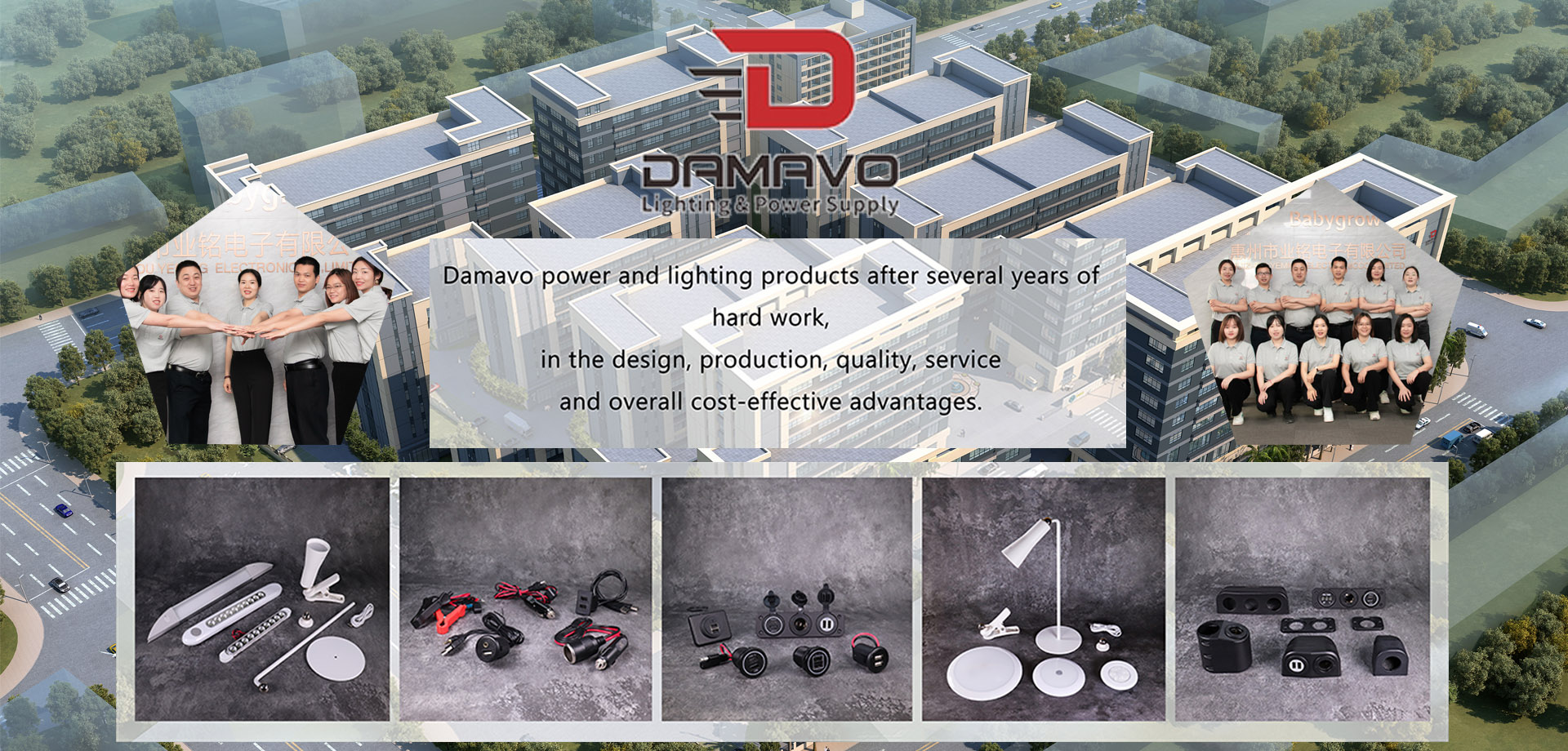 Looking forward to cooperating with you! To see FAQ know more. or  Contact sales to start your inquiry! (0086) 752-5779666  or send E-mail to us!