Ceiling  lights|Awning lights|Aluminum LED lights|LED light bar|USB charger|Power socket|Cables|Voltmeter Ammeter|Panel Mount|Others
 From the founder of DAMAVO
-Ms. Joy Yang

In June 2002, Yeming Company was formally established, and I started my entrepreneurial journey. It is a Automotive 12v led light, led interior lights 12v IATF:16949 manufacturer. At the beginning of the business, the power supply industry was chosen to make a living. But after 10 years of polishing and customer recognition, I think I should not only choose this industry to make a living. More to reflect the value, I hope more people can know my brand; my brand is a good product in people's hearts, cost-effective, and worth buying.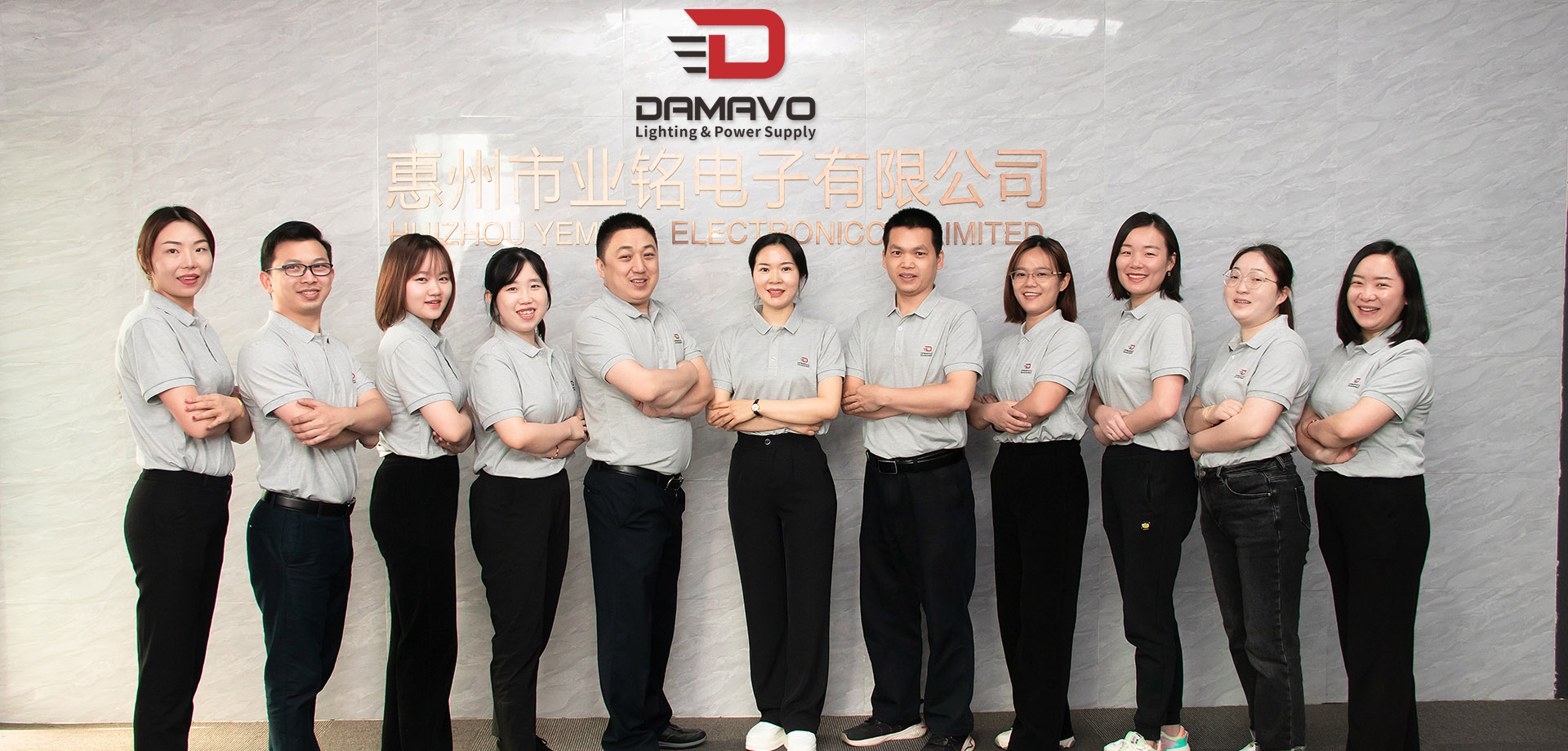 For many years, the labels of Chinese-made products in the minds of foreign friends have been poor quality, fake and shoddy, etc. Therefore, in 2012, I led my team in the international trade market. I want to push my products abroad, let more foreign friends know us, use our products, and change their perception of products made in China. Traditional view. Of course, every road is not so easy to walk, and I have encountered many difficulties, but I always believe that a good product can speak, and one day, it will be recognized by more foreign friends. In the end, after years of hard work, The products have been highly recognized by most foreign customers.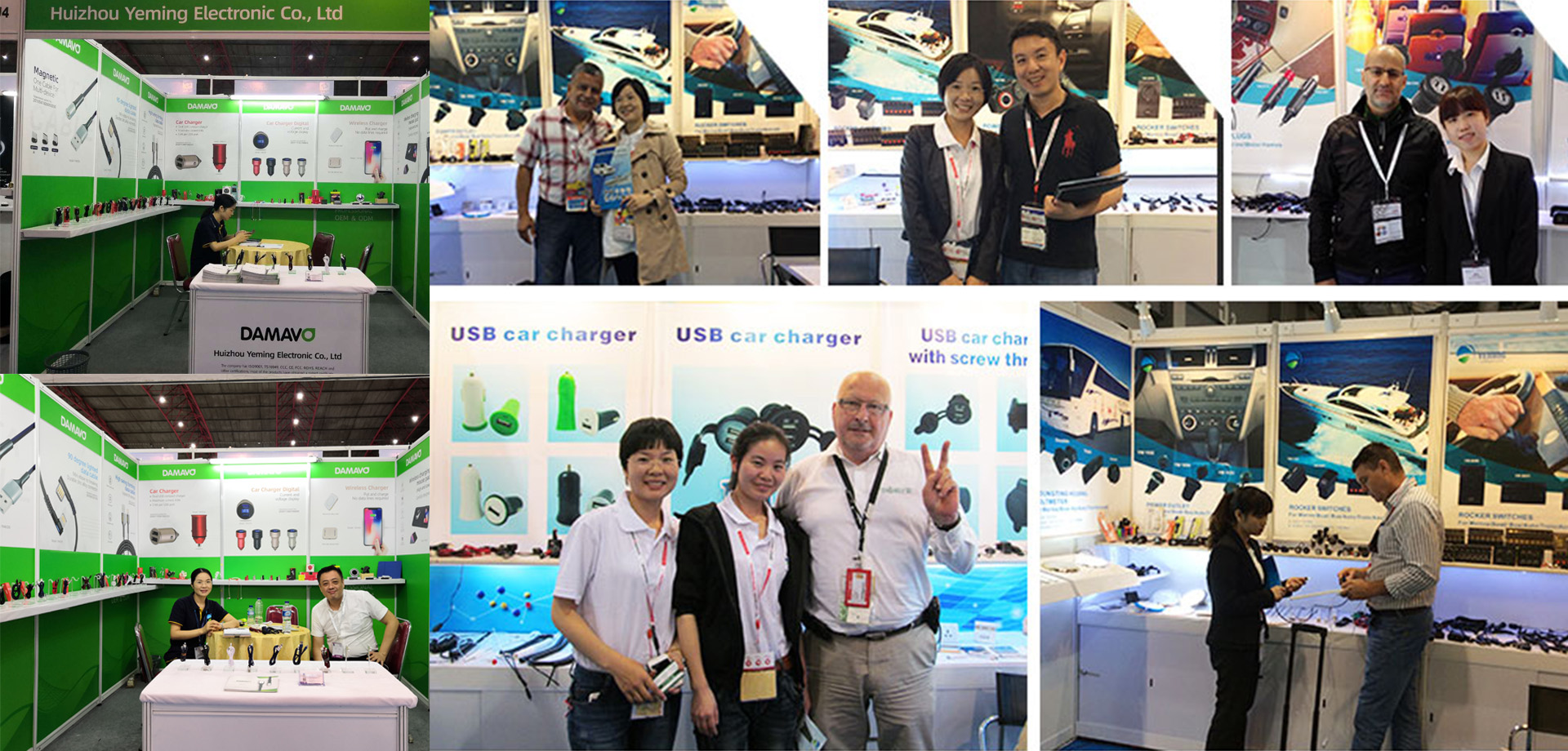 The company has been established for over 20 years, and quality is always the priority. We aim at high efficiency. Regardless of the company's benefits, I always place myself in a vast competitive environment, constantly strict requirements for engineering, production, process technology, quality, etc., and conduct professional training for technical personnel at least three times a year, so that the status of team members and personnel skills can be maintained forever. At optimum.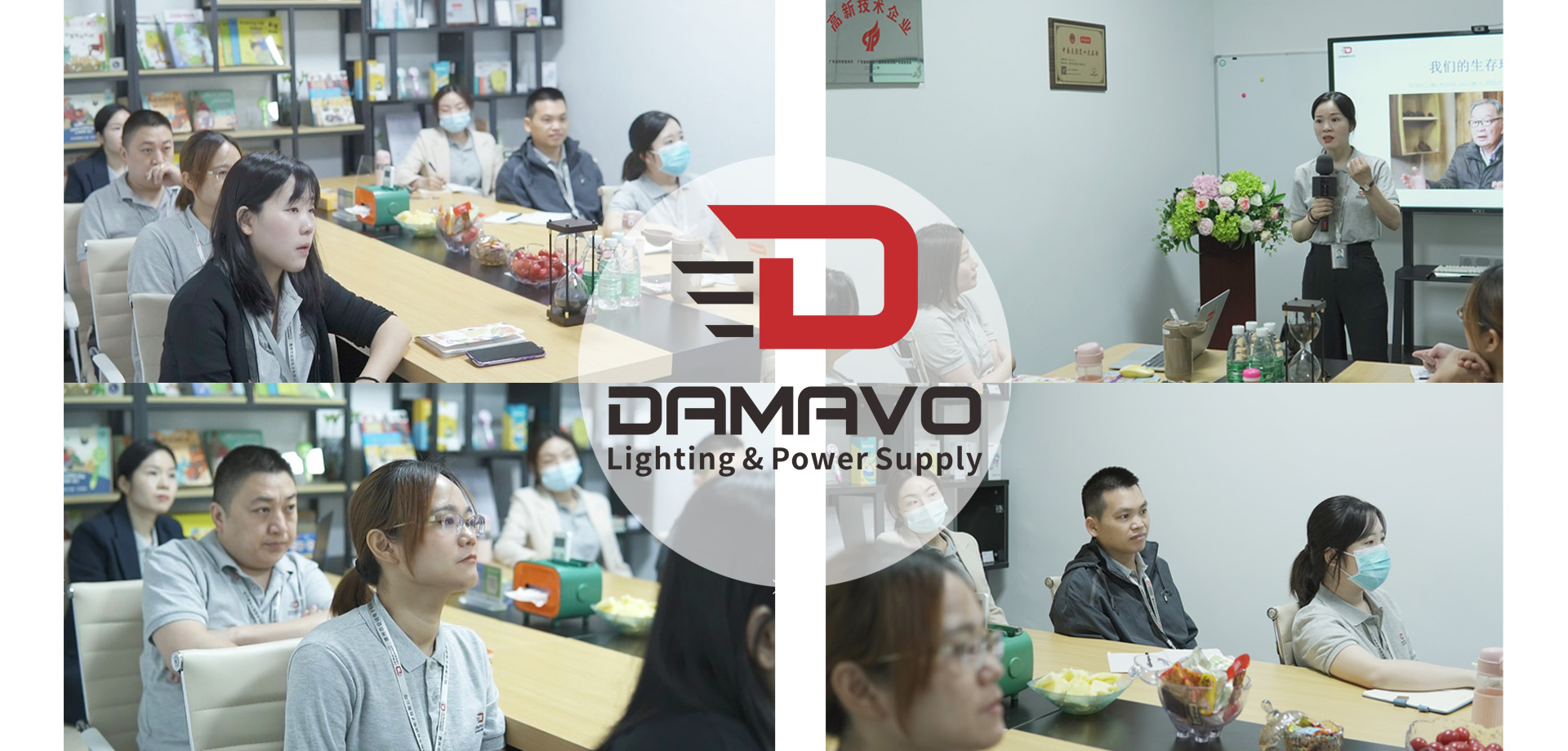 After years of long-term persistence in manufacturing & quality control activities,  we have achieved a better cost advantage for DAMAVO under the same quality, and DAMAVO's products have better performance at the same price.  We have more than 20 full-time inspectors and invested in our own factories and high-quality production lines to improve our manufacturing efficiency and standards.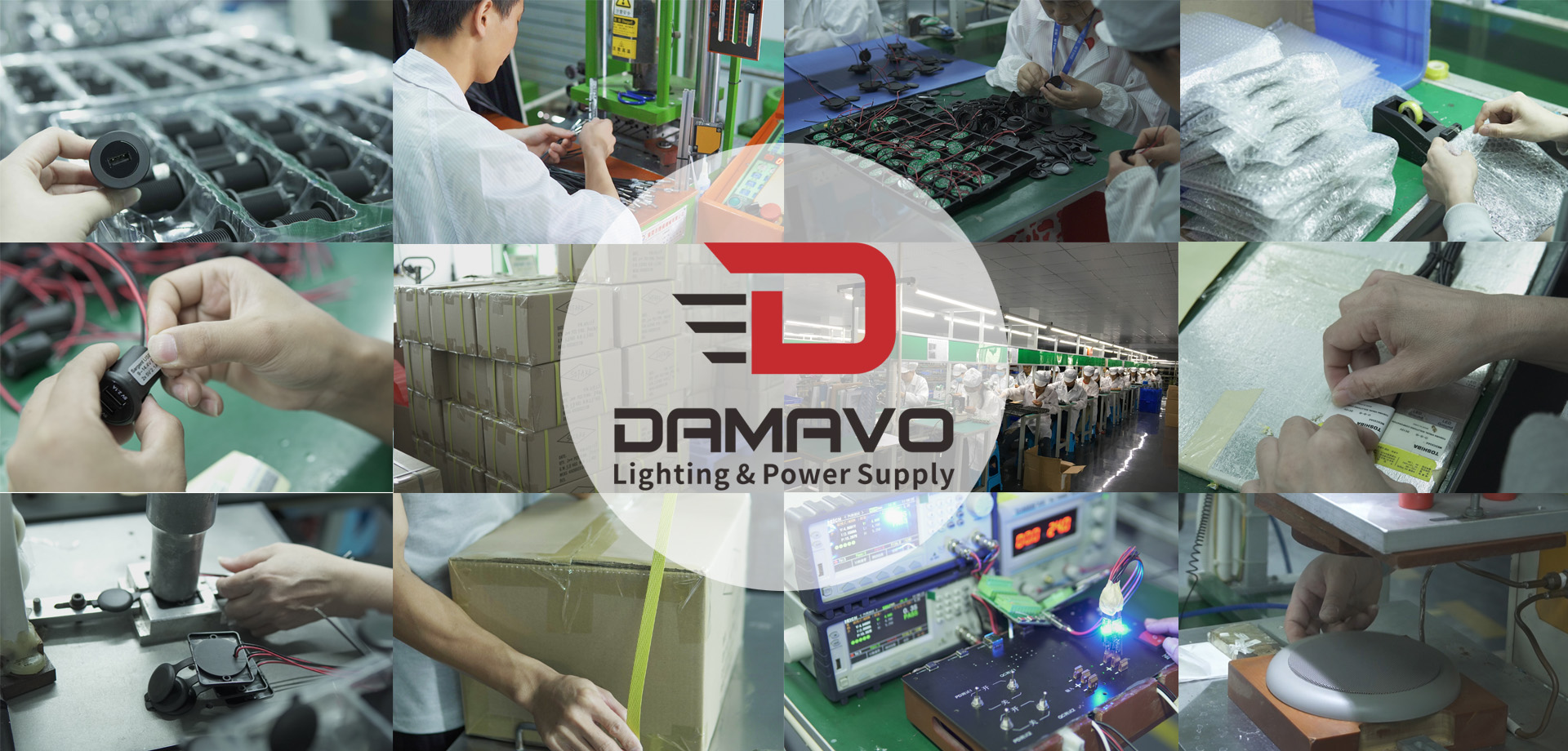 My promise to our clients is that we aim to provide high-quality OEM/ODM/IDM service that allows you to experience different quality services from DAMAVO ®.  Our team of business managers and engineering managers support you throughout the manufacturing process to ensure the success of your project. At the same time, we will continue to improve and exceed to ensure that customers achieve their vision.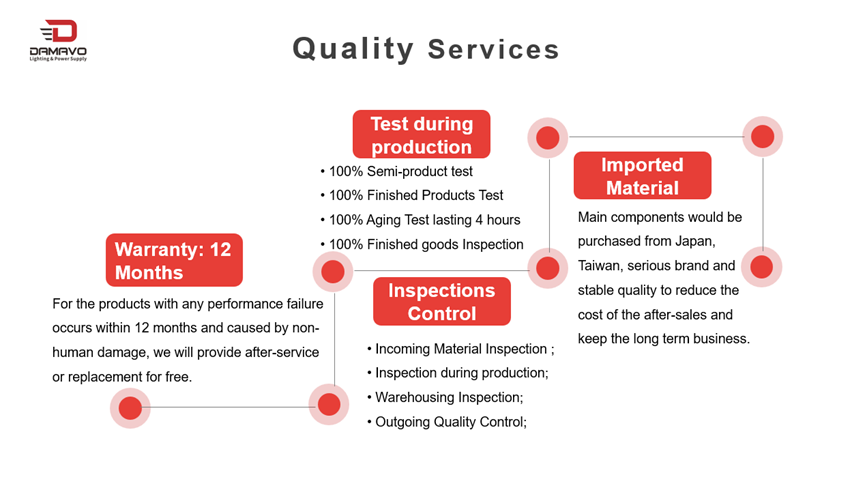 Looking forward to cooperating with you! To see FAQ know more. or  Contact sales to start your inquiry! (0086) 752-5779666  or send E-mail to us!
Click the pictures below for more information about our products, start now!
 

DAMAVO ® was established in 2002. Our entrepreneurial mission: "Full of power, always light!".

We are specialized in manufacturing LED lights and power supply parts, such as ceiling lights, awning lights, strip lights, USB car chargers, power cables, power sockets, usb c multi charger, 18 watt fast charger, 18w fast charger type c etc., which are widely used for RV, Trailer, Camper, Vans, Truck, Excavator, Heavy Vehicles, Train, High-speed train, Tractor, Agricultural Vehicles, Forklift, Golf Cart, Motorbike, Electro mobile, Marine, Hotel, Home furnishing material, Railway station, Airport, Aviation, Defense, Communal facilities, etc.


 




After years of development, it has built a safe, efficient, and stable production and sales system. It has gathered a group of elites with many years of industry experience. It is an IATF16949, ISO9001 certified, and a high-tech enterprise. We have obtained E-mark, RCM, R10, CE, ROHS, REACH, and other certifications.
 



DAMAVO ® has always adhered to customer-centricity. It has 5 standardized production lines. Each line is equipped with anti-static devices, an independent laboratory, and a complete production service management system to provide strong cooperation for customer brand promotion and product planning. The customer network extends to the whole world and is sold in Europe, North America, South America, Japan, South Korea, and Southeast Asian countries, Provide solutions and products for brand customers. It is a supply chain manufacturer of well-known domestic and foreign customers.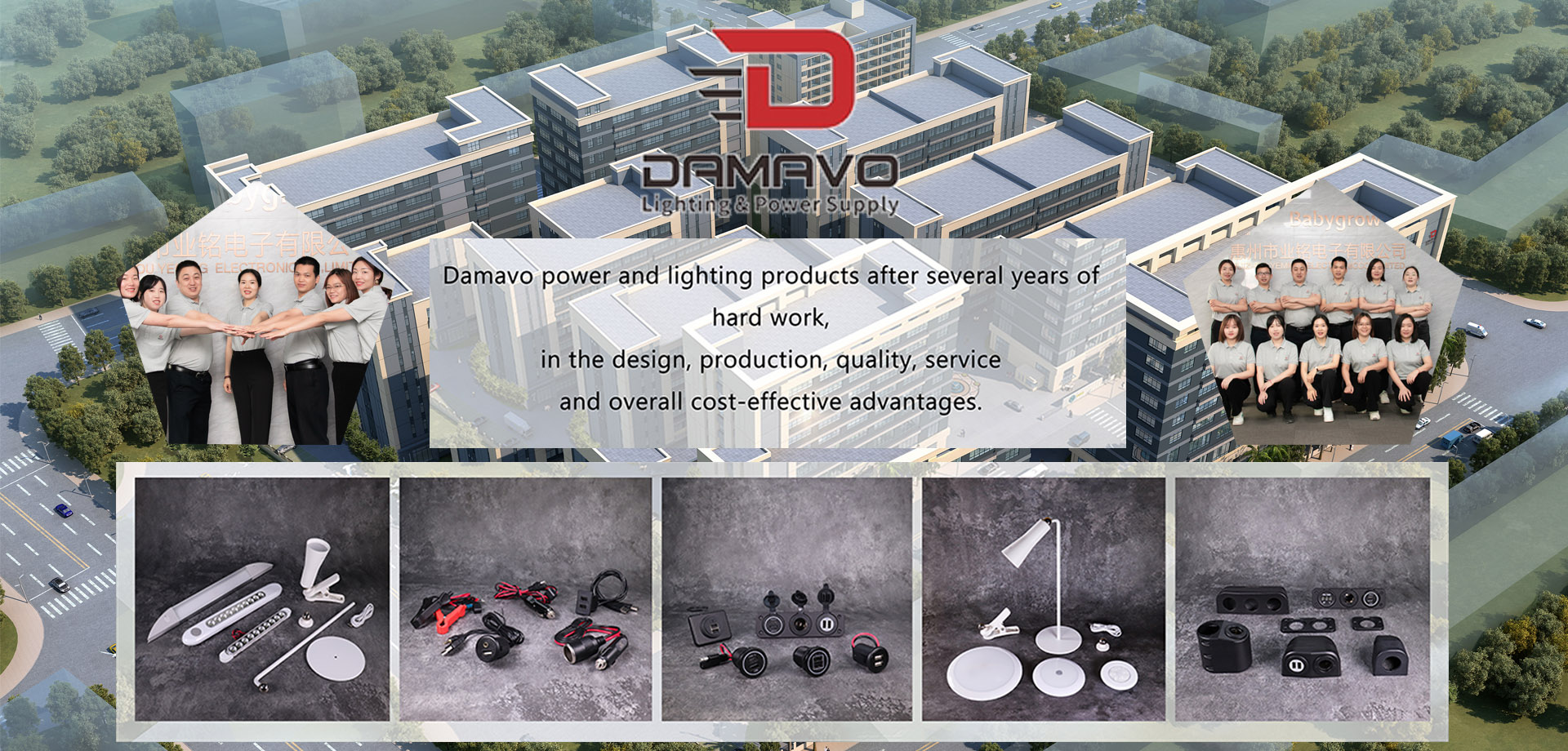 Looking forward to cooperating with you! To see FAQ know more. or  Contact sales to start your inquiry! (0086) 752-5779666  or send E-mail to us!