Ceiling  lights|Awning lights|Aluminum LED lights|LED light bar|USB charger|Power socket|Cables|Voltmeter Ammeter|Panel Mount|Others
FAQ
What companies are developing specialized LED lights and power supply chargers independently in China?
More and more manufacturers of LED lights and power supply chargers in China have realized the importance of the independent ability of research and development since it dramatically influences the competitiveness of those manufacturers and enterprises. A self-innovation company is strong in its economic strength, masters core technology for exquisite craftsmanship, accumulates a wealth of technical experiences and development capabilities, and can develop innovative products without relying on other technologies or companies. DAMAVO ® is one of those companies with solid abilities to manufacture and develop multiple products constantly.
       2. How is DAMAVO ® positioned?
Value-based brand positioning is the one we've been to sticking. It means that our brand DAMAVO has focused on product quality and benefits. We price the products as not the cheapest because we only adopt high-quality and well-selected raw materials to manufacture the products. It ensures our products are functional, safe, and reliable. Their extended use life and easy maintenance highlight their value of costing customers less money in replacing or repairing new products. In other words, users can save a lot of money by using valuable produc
       3. Who are the main customers of DAMAVO ®?
We are proud of our ongoing relationships with over 300 customers from over 50 countries. Automotive, buses, recreational vehicles, motorcycles, excavators, cranes, tractors, agricultural vehicles, wheelchairs, gardening equipment, campsites, ships, aeroplane manufacturers, subway stations, airports, and public places construction.
      4. What certification does the DAMAVO ® factory have?
IATF16949:2016、ISO 9001、CCC , etc.
      5. How many employees do you have?
We have about 80 employees currently.
      6. Where is your factory?
Our factory is located near the Shenzhen port in Huizhou, Guangdong Province, China.
      7.Are you a trading company or a factory?
We are a high-tech enterprise with our production plant, which integrates design, R&D, and manufacturing.
      8. Can I visit your factory?
You are welcome to visit us. Please get in touch with our sales team to arrange everything for you.
      9. When was your company founded?
Our company was founded in 2002 in Shenzhen and moved to Huizhou, Guangdong, in 2012.
PRODUCTS
Is DAMAVO ® charger compatible with all car brands, or can it only charge certain brands?
DAMAVO ® chargers are compatible with all 12/24V vehicles on the market. For the battery vehicle, we can supply input 60V max. Chargers to match your requirement.
       2. What are the advantages of the DAMAVO ® USB car charger socket?
USB series products have overload protection, short circuit protection, high voltage input protection, high-temperature protection, reverse polarity protection, etc.; LED series products are private models with beautiful designs and long life
      3. What certificates do your products have?
Our stations have passed CE、ROHS、FCC、R10、R118、E-MARK, MSDS, and UN38.3. We will cooperate with you to do other tests by your local regulation.
      4. Do DAMAVO ® USB chargers support reverse polarity and short circuit protection?
Yes, a DAMAVO ® USB power charger with reverse polarity and short circuit protection ensures the chargers won't be damaged when you make the wrong connection during installation.
      5. Do DAMAVO ® car chargers and LED lamps to have the certification required by the local markets?
DAMAVO ® car chargers and LED lamps are being sold all over the world; our products have passed relevant certifications recognized by the local marketing, including but not limited to CE、ROHS、FCC、R10、R118、E-MARK, MSDS、UN38.3.
      6. Is the DAMAVO ® USB car charger waterproof?
The USB car charger is IPX3/4/5 level waterproof, which means that it can't be soaked in water but can resist medium rain or a daily splash of water. It is benefited from its unique design of series covers.
      7. What's the material for DAMAVO ® car chargers?
DAMAVO ® car chargers are always made of Nylon, and PC, as they are solid and durable; some parts are made of ABS, PVC, Silicon etc.
      8. What's the material for DAMAVO ® outdoor awning lights?
DAMAVO ®'s awning lamp is made of UV-resistant ASA material. In addition to its durability, due to its long-term outdoor use, we have added UV-resistant ingredients into the material to prevent it from turning yellow and discolouring.
     9. Is the DAMAVO ® porch light waterproof?
Yes, all porch lights (e.g. YML021, YML051, YML052, YML053, YML068) are waterproof for outdoor use and can be purchased confidently. 
   10. Are the DAMAVO ® ceiling light and light bar waterproof?
Most ceiling lamps do not need to be waterproof, but if you use them in the bathroom, kitchen and other places, please tell the sales representatives of DAMAVO that our ceiling lamps, such as YML021 and cabinet lamps YML053, are both waterproof and non-waterproof. Up to IP67 waterproof grade. 
   11. Are DAMAVO ®'s lighting products all green and energy-efficient LEDs?
Yes, all of DAMAVO ®'s lighting products use energy-saving LED technology, which is green, energy-saving and durable. 
   12. Can I have my logo to be printed on the products?
Yes, you can. Besides the product alone, we suggest printing your logo, company name and address on packaging and I/M to fulfil your private brand projects.
   13. Can I change the LED lights to other colours?
Yes, it is acceptable, but we need MOQ 1000pcs. Can you accept it?
   14. What is the packaging looking like?
According to all kinds of products and the actual needs of customers, our products have cartons, PE bags, colour boxes, blisters, cards and other kinds of packaging; according to your actual needs, you can also put forward your packaging requirements. 
   15. What is the standby current of your USB charger?
The self-consumption current/standby current of the USB car charger with LED indicator light is about 17mA, and the one without an indicator light is about 10mA.
  16. Does the USB car charger have a fast-charging model?
Yes, it is recommended to use our YM1298. For more models, please contact our professional sales or visit our official website www.cableym.com.
ORDER & DELIVERY
What certification does the DAMAVO ® factory have?
IATF 16949:2016、ISO 9001、CCC , etc.
      2. What is the product ordering process?
 Please let us know the model and quantity.
 We will return Proforma with all details, terms and conditions.
 Confirm payment of the deposit or open L/C to us.
 Production and delivery following your schedule.
      3. Can you assist us with customs clearance?
We can cooperate with customers to carry out related customs clearance procedures and issue corresponding customs clearance materials.
      4. Whether the product meet local customs clearance standards?
Our products have been sold in large quantities all over the world. The products have passed relevant certifications recognized by the local marketing, such as CE 、ROHS、FCC、R10、R118、E-MARK, MSDS、UN38.3 etc. At present, all cooperative customers can complete customs clearance procedures typically.
      5. What is HS Code for DAMAVO ® products?
DAMAVO ® series products HS code: Car charging 8504409999, LED lamp 8539293000, power cable 8544421900 
      6. What are DAMAVO ®'s shipping terms?
Our standard terms are Ex Works (EXW) for small orders and FOB for over 3000pcs orders. 
For express shipments, we use Delivered Duty Unpaid (DDU), which means that the client is responsible for paying import duty when the goods arrive at your destination.
      7. Where is your FOB port?
Our FOB port is Shenzhen usually. We could also move to Shanghai or Ningbo if needed.
      8. Does DAMAVO ® insure delivered goods?
No, we do not ensure deliveries with insurance. However, you are free to use your insurance.
      9. How long does it take to transport?
Express: 3 - 7 days
By air: 5 - 10 days
By sea: 20 - 35 days, depending on different ports.
    10. What transportation methods are available?
We provide customers with the express, air and sea services.
Express includes FedEx, DHL, TNT, UPS, etc.
    11. How long does it take to produce?
Thanks to a solid and efficient production capacity, we can deliver to customers quickly and accurately. If it is a standardized product, we can deliver it in 1-3 days. If it is batch customization, it usually takes 4-6 weeks to produce. 
    12. Our lead times in working days or calendar days?
Lead times are quoted in calendar days. As per our Terms and Conditions, quoted lead times commence only after completion and confirmation of design for manufacturing review and the beginning of actual production.
     13. My order is in a hurry, can you handle it urgently for me?
Yes, no problem, please let us know when will you need to receive the goods, and contact our sales person for special arrangement.
QUALITY CONTROL & AFTER-SALES SERVICE
What are quality control links there in production?
Incoming materials have undergone strict sampling tests. During the production process, there will be inspections, 100% semi-finished product testing, the first 100% functional test, ageing test, the second 100% functional test, sampling test before shipment, and strict control of each product. Production Process.
      2. How does DAMAVO ® ensure the quality of my parts?
Once your order is confirmed, we will perform a complete Design for Manufacturing (DFM) review to point out any issues that our engineers feel may affect the quality of your parts.
All incoming materials are inspected and verified with a suite of testing equipment.
Final inspection reports before shipment.
We can share inspection data with you in real-time so we can work together to address any quality issues you may have during production.
      3. Does the product have a warranty period? How long is the warranty period?
 For DAMAVO ® brand products, we provide 12 months warranty from the date shipped on board.
 For OEM/ODM products, please refer to our sales team for details.
      4. How long is the processing time for after-sales problems?
Usually within 1-2 working days;
for a small number of complex after-sales problems, we may need to spend more time communicating with customers to confirm the root cause.
      5. Do all defective products need to be sent back to DAMAVO ®?
According to our after-sales department's judgment, it depends if it needs to be sent back. We will ask the customer to send it to our designated locations in various countries so the technical staff can deal with the defective products.
      6. What should I do if I encounter a product failure?
Our products have undergone strict factory inspections and rarely encounter after-sales problems. It is one of the reasons why more and more customers choose to trust DAMAVO ®. In case of any product failure, please contact our after-sales department directly. We have a complete after-sales process and can provide customers with various after-sales methods such as replacing or repairing faulty ones to ensure that our customers will purchase our products without worries.
      7. What to do if the product encounters a malfunction beyond the warranty period?
We will provide our customers with more extended after-sales service (except for manufactured damage) according to specific situations, such as replacement of components. We will charge a certain amount of maintenance costs as appropriate.
     8. What if I am not completely satisfied with the parts I receive?
We guarantee our materials and artistry based on the terms of the initial order and your information. Any disputes based on a subjective determination shall be brought to management's attention, who will act in good faith to provide you with complete satisfaction. Our continuing business relies on earning your confidence in our ability to meet and exceed reasonable expectations.
CUSTOMIZATION
Can LED lights, car chargers, cigarette lighter socket, voltmeter and ammeter, and power cord be customized?
Yes, DAMAVO can provide customized service regarding our products - LED lights, car chargers, cigarette lighter socket, voltmeter and ammeter, power cord etc. In the world of unified products or services, customers have started to look for something different - the products have unique designs, shapes, colours, and so on, to enhance their brand awareness. We want your products to be the best and the most unique they can be. Combining the best ideas of our product designers and the best skills of our engineers, we keep your products at the optimum level and satisfy you.
      2. Can Automotive ceiling light, awning light, camper light, chargers, power cords, and sockets be made by any shape, size, colour, spec or material?
Based on the internal structure, product properties, or other technical reasons, some parts of the product can't be changed or customized very easily. We recommend you contact us and tell us your needs regarding the Automotive ceiling light, awning light, camper light, chargers, power cords, and sockets as precisely as possible. Our R&D engineers and product designers will analyze your requirements and plan effectively. Our in-house capabilities can help turn your original ideas or concepts into reality - a final customized product. Since established, we have helped many customers meet the challenges they are faced with by customizing our products.
      3. How do you go through the Automotive ceiling light, awning light, camper light, chargers, power cords, and sockets customization?
DAMAVO ® works shoulder-to-shoulder with you to customize the products to your needs and objectives. First of all, we will perform a needs assessment. Designers, R&D technicians, and workers involved in the process will discuss the plan for customizing the products together. To identify that uniqueness and cater to customers are the recipes for us to win over other competitors. Then, a sample will be made based on the confirmed sketches and delivered to you on time. After getting the confirmation and establishing a formal partnership with you, a mass customization process will start.
      4. Can DAMAVO ® make design drawings for me?
We do not provide design services. You are responsible for submitting 2D and 3D CAD drawings, and we can then provide a Design for Manufacturing review upon receiving your order. Read how to prepare your CAD drawings for manufacturing.
      5. How long does a quotation take for a customization project?
In most cases, we respond to our quote plan within 1 day of receiving an RFQ. We will need 3-5 days to finish the project evaluation with our team. If the quote is delayed, we will notify you as soon as possible.
      6. What type of files does DAMAVO ® accept for customization project quoting?
We need your customization requirements to provide accurate and timely quotations as detailed as possible. Some projects may require 3D CAD files in STL, STEP or IGES format. 2d drawings with reference dimensions must be in PDF format. We must receive complete manufacturing information as part of this technical document. 
      7. What if changes are needed during project development or production?
Please send your change requirements and modified documents to the email address of the DAMAVO project sales representative, and we will formally reply after our internal evaluation. Informal communications via WhatsApp, Skype, SMS, etc., will not be considered usable for alteration and manufacturing purposes. 
      8. How do I know my design will be kept confidential?
We, of course, will sign and adhere to any non-disclosure or confidentiality agreement. We also have a strict factory policy that no photographs of a customer's product are ever allowed without express permission. Ultimately we rely on our reputation of working with hundreds of customers over many years and never allowing any proprietary information to be disclosed to a third party.
       9. How does DAMAVO ® compare to other suppliers in the price?
Although direct comparisons are difficult, DAMAVO ® costs between one-fifth and one-third of similar products in Europe and the United States. Compared to Our Chinese suppliers, we choose not to compete on price, but to deliver the highest quality, quick response and professional results. 
     10. Is there related certification for the customized products?
We will confirm with the customer the certificates required for the product before customization and complete all the agreed certifications before the product is delivered, which will be written in the contract agreed by both parties.
     11. Can I customize products with unique features?
We have complete technical reserves. We can meet all functional requirements raised by customers within a reasonable range.
     12. Can I customize the box and packaging method?
In the case of meeting MOQ, we can provide related services.
     13. I want to customize and print the designated LOGO on the product. Is it possible?
In the case of meeting MOQ, we can provide related services. Please refer to the relevant page for details.
     14. Is ODM service available?
We provide ODM service. Please refer to the relevant page for more details.
     15. Is OEM service available?
We provide a series of OEM customized services.
     16. Can you carry out technical support or project discussions in video conferences?
We can communicate with customers by email, telephone, video conference, etc.
     17. How many days does it take to make the mold?
Plastic mould generally takes 35-40 days, PVC mould 7-10 days
     18. I have been facing a charging or LED new project, but I am not sure which product is more suitable. Can you help me?
We have a wealth of project experience and have assisted many customers in solving project difficulties. It will make us proud that our product solutions are helpful to you.
     19. I have encountered a problem when selling the product. Can I seek technical support?
We have professional technical staff who can provide customers with technical support within the shortest period and assist them in solving problems.
DELLER
Do you have a retail store in the US? I don't have much quantity, and the shipping fee is too high to order from China.
You can buy it from our Amazon store, search for DAMAVO ®, and choose the product you need!
      2. Can I be your reseller?
We welcome new resellers to join us. Please refer to the relevant pages or contact our staff for specific requirements.
INSTALLATION
Is installation service provided for Automotive ceiling light, awning light, camper light, chargers, power cords, and sockets?
DAMAVO ® provides installation support for Automotive ceiling lights, awning lights, camper lights, chargers, power cords, and sockets. We are always proud of our commitment to customer service, with post-installation support included. Our product features flexibility and versatility. Some parts of the product can only be integrated and assembled, requiring technical support from professionals. Even though you are thousands of miles away from us, we can provide you with online installation support through video chat. Or, we would love to send you an e-mail with a step-by-step installation guide.
SAMPLES
Can I get your free sample?
We can provide 1-2pcs samples free of charge. But the Courier charge of the sample should be borne by the buyer. For customized samples, please consult the DAMAVO ® sales representative. 
       2. How long is the sample time?
For regular samples, it takes 1-3 days. They are free if shipping is charged. For customized samples, please consult the DAMAVO ® sales representative. 
PAYMENT
How can I pay for my order?
DAMAVO ® accepts payment in two ways:
Bank to bank wire transfer. DAMAVO has accounts in Hong Kong and Huizhou, China. 
DAMAVO ® can send you a PayPal invoice, and you can pay using your PayPal account or credit card. 
      2. Can my company get credit with DAMAVO ®?
The customers must pay in advance for the first three orders, after which we will consider giving 30 days' credit. Except in exceptional cases, all orders require a 50% deposit in advance. Typically the balance must be paid before shipment.
     3. What is DAMAVO ®'s Import/Export Code for China?
DAMAVO's import and export code for China is 4413361291
     4. Is it possible to deliver in batches?
Yes, you can, please contact sales to discuss the details.
WHY CHOOSE US?
Tailored energy solutions for your motorcycle, quad, and electric vehicle applications.
Looking forward to cooperating with you! To see FAQ know more. or  Contact sales to start your inquiry! (0086) 752-5779666  or send E-mail to us!
Click the pictures below for more information about our products, start now!
DAMAVO ® was established in 2002. Our entrepreneurial mission: "Full of power, always light!".
We are specialized in manufacturing LED lights and power supply parts, such as ceiling lights, awning lights, strip lights, car power outlet, outlet adapter for car, car outlet adapter, best car battery charger, power cables etc., which are widely used for RV, Trailer, Camper, Vans, Truck, Excavator, Heavy Vehicles, Train, High-speed train, Tractor, Agricultural Vehicles, Forklift, Golf Cart, Motorbike, Electro mobile, Marine, Hotel, Home furnishing material, Railway station, Airport, Aviation, Defense, Communal facilities, etc.

After years of development, it has built a safe, efficient, and stable production and sales system. It has gathered a group of elites with many years of industry experience. It is an IATF16949, ISO9001 certified, and a high-tech enterprise. We have obtained E-mark, RCM, R10, CE, ROHS, REACH, and other certifications.

DAMAVO ® has always adhered to customer-centricity. It has 5 standardized production lines. Each line is equipped with anti-static devices, an independent laboratory, and a complete production service management system to provide strong cooperation for customer brand promotion and product planning. The customer network extends to the whole world and is sold in Europe, North America, South America, Japan, South Korea, and Southeast Asian countries, Provide solutions and products for brand customers. It is a supply chain manufacturer of well-known domestic and foreign customers.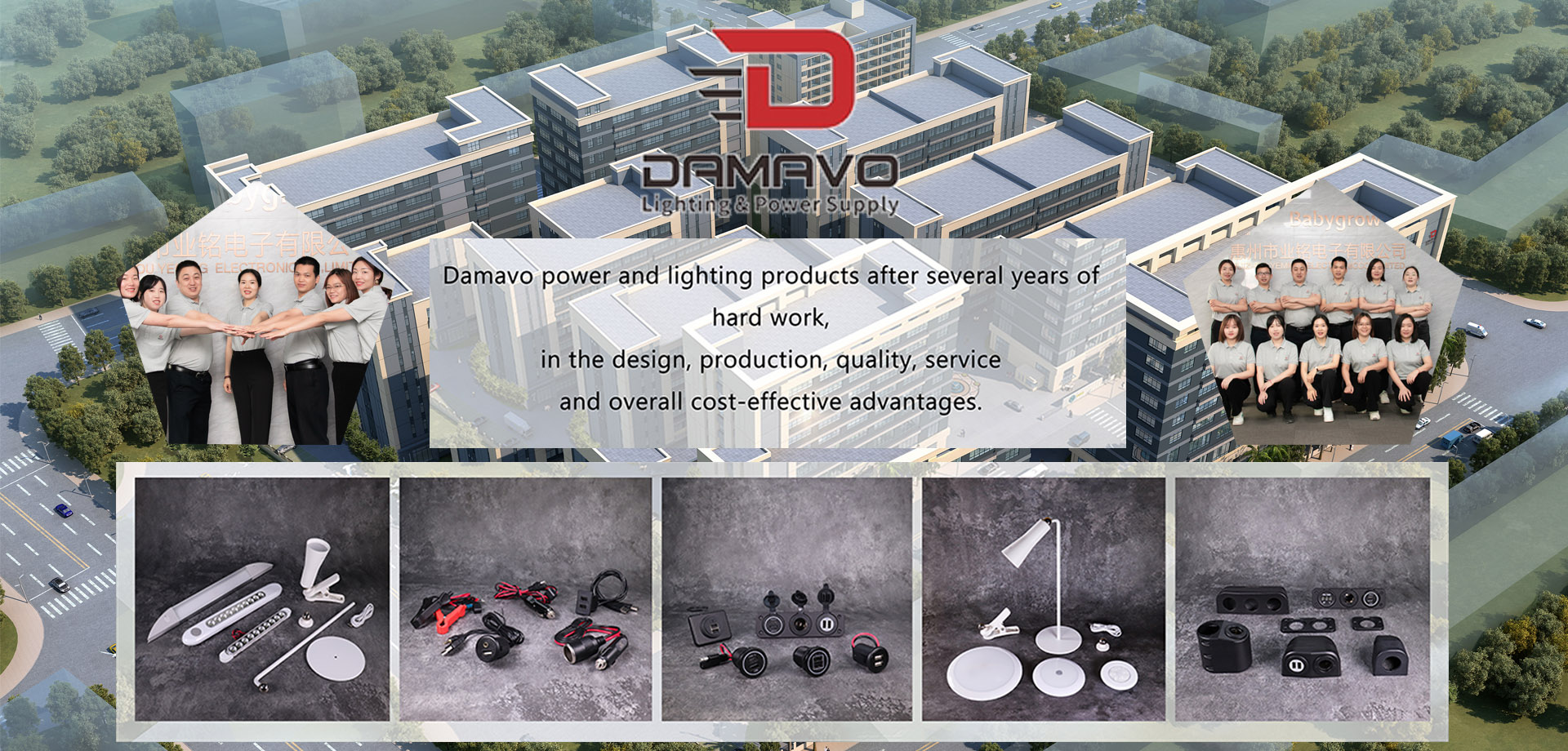 Looking forward to cooperating with you! To see FAQ know more. or  Contact sales to start your inquiry! (0086) 752-5779666  or send E-mail to us!
For 12v power lead, waterproof voltmeter, motorcycle voltage gauge, 12 volt cigarette lighter extension cord, 12 volt ammeter, 12 socket extension lead, cigarette lighter cable, 2 port car charger, car charger pd, 12v phone charger for car, cigarette lighter to 110 adapter.